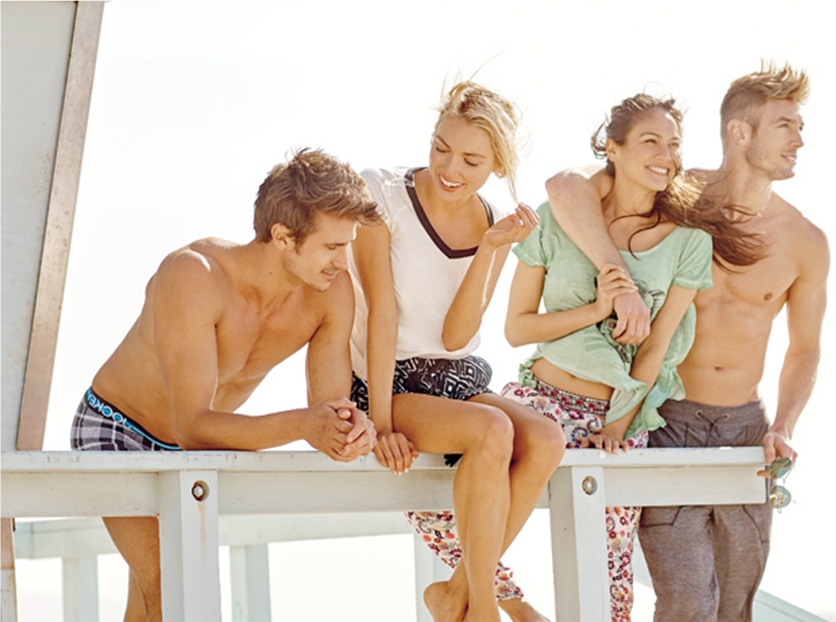 Today Jockey International, Inc., is a leading manufacturer and marketer of comfort apparel products sold in major department and specialty stores in over 140 countries, including the UAE. The brand has more than 400 exclusive brand outlets and is present in more than 1400 cities and towns across the country. As Jockey grows in size and sophistication, the simple commitment to serve its consumers' needs continues to be the company's hallmark.
Company History
1800s

In 1876, Samuel Thrall Cooper founded S.T. Cooper & Sons, the predecessor of Jockey International, Inc. Samuel Cooper started his hosiery business in St. Joseph, Michigan to help lumberjacks who were suffering from their poor quality socks... laying Jockey's foundation for "Satisfying the Human Need for Comfort."

By 1878, S.T. Cooper & Sons was producing nearly 2,500 pairs of seamless stockings each day. Over the next 25 years, Cooper's sons (Charles, Henry and Willis) became skilled in the business. In 1897, they introduced the Black Cat brand of hosiery for men, women & children, and in 1898, the brothers moved the company and eventually moved the company into an ambitious new direction... Men's Underwear.

1900s

In 1900, the brothers incorporated as the Cooper Underwear Company and began producing White Cat underwear.

The new Cooper Underwear Company mill, which manufactured White Cat union suits, was completed in 1902. This location still serves as the longtime headquarters of Jockey International, Inc.

1910s

In 1912, the patented Cooper union suit, branded as the Kenosha Klosed Krotch, rose to the top of the underwear market and was sold faster than it could be produced.

Cooper hired Joseph C. Leyendecker, illustrator for The Saturday Evening Post, to create the "Man on the Bag" image... a staple of the company's brand identity and a classic American advertising image.

1920s

First building image

Arthur Kneibler was hired by Cooper Underwear in 1928 to head its sales and marketing team.

In 1929, the Cooper Underwear Company officially changed its name to Cooper's, Inc. That year, Coopers' developed the Singleton, a new-style union suit with short legs and a sleeveless top and packaged them in cellophane bags - a first in the underwear trade and a huge selling point in modern self-service apparel stores.

1930s

In 1934, Arthur Kneibler received a post card from the French Riviera showing a man in a bikini style swimsuit. This simple postcard inspired the creation of the one and only Jockey® brief.

In 1935, Cooper's began selling the Jockey® short on a larger scale. The day of its debut, Chicago's popular Marshall Field & Company sold out its stock of 600 packages by noon and sold 12,000 more in the following weeks. The Jockey® short became a national sensation.

The Jockey® Y-Front® brief was invented later that year and became Cooper's most sought after item. The success of the Y-Front® brief was followed with the design of the Jockey Midway® Brief.

Cooper's signed its first international license agreement with the Canadian J.R. Moodie company in 1936. That same year, European export agents began placing orders for Cooper's products. During the remaining century, licensee agreements were signed in Australia and throughout Europe, South America, Asia and Africa.

At a retail convention in Chicago in 1938, Cooper's hosted one of the first Underwear Fashion Shows, featuring "The Cellophane Wedding."

A Cooper's salesman in 1939 invented a ground-breaking countertop dispenser to organize sizes and styles of underwear.

1940s

To better symbolize the pride in the brand, Cooper's commissioned well known sculptor and painter, Frank Hoffman, to produce the Jockey Boy.

1946 ushered in one of the company's most important merchandising tools...endorsements from star athletes... one of the first being home run king, Babe Ruth. In 1947, the Jockey® brand name was stitched into the waistband of the underwear for the first time.

1950s

Cooper's advertised in the first issue of Sports Illustrated magazine in 1954.

In 1958, Cooper's introduced Jockey® Skants® briefs, the company's first foray into fashion underwear. Cooper's also purchased its first TV advertising, read live by Jack Parr on the Tonight Show.

1960s

Harry Wolf Sr., future owner of Jockey International, Inc., became President of Cooper's in 1960.

The Jockey® Low Rise brief was born in 1961 and became a huge success in Europe. The Jockey® Half-boy trademark was also introduced that year.

Cooper's introduced the Jockey® Life® Low Rise brief to the United States in 1965.

1970s

In 1971, Coopers, Inc. changed its name to Jockey Menswear, Inc.®, and then changed its name to Jockey International, Inc. in 1972.

In 1972, Jockey International, Inc. established a new line called Trophy®, fashions for the golf course, and by 1975, Jockey's Sportswear line accounted for one third of the company's sales.

The Jockey® Elance® collection was launched in 1976, beginning the company's longstanding leadership in the world of men's fashion underwear.

1978: Donna Wolf Steigerwaldt, daughter of Harry Wolf Sr., took the helm at Jockey International, Inc. and ushered in a new golden age at the company.

1980s

In 1982, Steigerwaldt introduced the enormously successful Jockey for Her®. Jockey for Her® hosiery was introduced in 1988.

1990s

Jockey developed the Life® brand for Wal-Mart in 1996.

Jockey launched the first generation of its Web site in 1997.

The "Let 'em Know You're Jockey" advertising campaign in Times Square coincided with the opening of a new showroom in New York's Fashion District in 1998.

Jockey increased its retail capabilities in 1999 with the launch of Jockey.com®.

2000s

2001: Debra Steigerwaldt Waller succeeded her mother as Jockey's Chairman &CEO.

In 2001, Jockey International, Inc. launched its revolutionary No Panty Line Promise panties.

Jockey embarked on a mission in 2004 to develop underwear in an innovative new way, ultimately becoming the 3D-Innovations line of products.Jockey launched Jockey Person to Person, Inc., its direct sales business, in 2004.

2005: Jockey introduced the Jockey Swirl Icon. Jockey's corporate citizenship initiative, Jockey Being Family, was also launched that year.Jockey launched its 3D-Innovations garments in most major metropolitan areas across the United States in 2006 and introduced the collection globally in 2007.

2007 witnessed the launch of Jockey's first retail catalog along with its freedom inspiring "Dare to Be You" television ad.
+
-